The new borne of "E-series" is a concept revolution, in the plastic injection territory.
It adopt the first class of servo motor and servo driver, to achieve the machine with high speed, high torque, high efficient and high precision injection molding.
Humanized Operation:Swivelable control panel with 12.1 inch color LCD.
Increase Production Range:Big space between tie-bar suitable for big mold and thin product.
Increase Quality:Adopting high speed servo control
High Precision:High rigid platen with fast respondence high speed injection.
Molding Field Extended:Multiple injection unit selectable for various molding.
Fast Respondence Control:Fast respondence and high speed control to achieve the best precision and stability injection performance.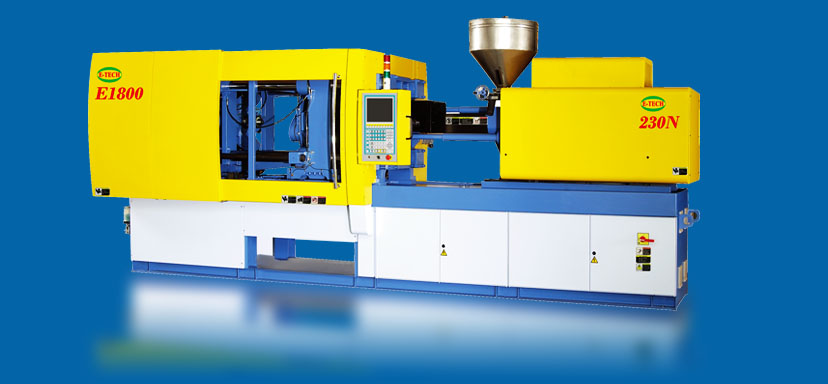 High rigid clamping unit offer the stable operation, and make sure the products quality.
1. "H type" platen design to get high rigid, and make sure the clamping force to the mold averagely.

2. Strong supporting structure for platen to make sure the platen parallel and mold precision lock-in.

3. Wider platen offer big space between tie-bar for bigger mold.
High speed & fast respondence injection function had promoted the precision and quality control.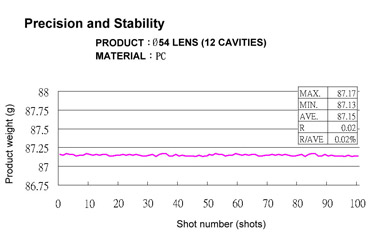 Precision and Stability

FAST RESPONDENCE INJECTION CONTROL, HIGH REPEAT POSITION AND INJECTION SWITCHING TO HOLDING, HIGH PRECISION PLASTICIZING AND BACK PRESSURE CONTROL TO ACHIEVE THE BEST AND STABLE PRODUCTS.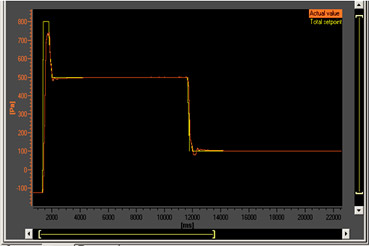 Precision Pressure Control

THE PRESSURE REAL VALUE IS APPROXIMATE WITH SETTING VALUE, IT HAS PRECISION RESPONDENCE. THE PRECISION PRESSURE CONTROL IS NOT ONLY IN THE INJECTION, HOLDING PRESSURE, BUT ALSO BACK PRESSURE OF PLASTICIZING.
STANDARD equipment
Injection Unit
1. 6 steps injection speed (Selective)
2. 5 steps holding pressure (Selective)
3. 3 steps screw speed and back pressure (Selective)
4. Swivel for injection unit
5. Barrel temperature pause changeover function
6. Pre-heating (Weekly)
7. Automatic purging circuit
8. Retraction select for injection unit
9. Screw suck-back device
10.Cold start-up prevention
11.Purge cover (with interlock)
12.Temperature control to material loading zone
13.Automatic greasing
14.9 mode control for injection switch holding pressure
15.Hopper move-out device
Monitor
1. Mold close speed and pressure curve display
2. Mold open speed and pressure curve display
3. Lower pressure mold protecting pressure curve display
4. Clamping belt broken detect
5. Injection speed and pressure curve display
6. Holding pressure curve display
7. Screw speed and pressure curve display
8. Ejector speed and pressure curve display
9. Ejector position curve display
10.Ejector belt broken detect
11.Temperature curve display
12.Auto detection and alarm device
13.History of alarm (1000 sets)
14.History of molding conditions value (100 sets)
15.Abnormal flashlight
16.Barrel temperature upper and lower alarm
17.Upper and lower limit for molding conditions
18.Grease lubrication abnormal alarm
19.Machine process monitor
20.Setting value resume (1000 record)
21.Servo motor abnormal alarm
22.Barrel heating system abnormal alarm
Clamping Unit
1. Greaseless toggle bushings
2. Automatic greasing
3. High performance mold platen support
4. Safety device for mold closing (Mechanical+Electrical)
5. Clamping force auto setting
6. Mold thickness control device
7. Low pressure mold protecting device
8. 5 steps mold close speed (Selective)
9. 5 steps mold open speed (Selective)
10.2 steps ejector advance speed (Selective)
11.2 steps ejector retract speed (Selective)
12.Ejector function setting
OPTION equipment
1. Open long nozzle
2. Bi-metal barrel for abrasion
3. Bi-metal screw for abrasion
4. Anti-corrosion and anti-scraping screw
5. High speed injection
6. Ultra speed injection
7. Daylight extension
8. T-slot platen
9. Heat isolated plate for platen
10.Core puller circuit (Hydraulic)
11.Photocell type product chute confirmation
12.Drilling of product take-out robot mounting holes
13.Other language select
Controller and Production Management
1. Color LCD controller
2. 200 sets memory of molding conditions
3. Memory by "USB" saving
4. Diagnose input and output status
5. Execute input / output detecting
6. Multiple layer password setting
7. Protection key lock parameter
8. Circuit for product take-out robot
9. Language switching function (Chinese, English)
10.Date zero reset
11.Alarm instruction
12.Production quantity control
13.Packaging quantity control
14.Key pad detection